I hadn't realized how easy it is now to make custom iPhone ringtones on a Mac. Last I did this, I had a hacked iPhone. But now, with my back-to-stock iPhone, adding ringtones as cuts from existing MP3s is ridiculously easy. On a Mac, anyway, which is all that matters.
Open GarageBand (you need 4.1.1 or later). Add the track to the current composition, and click the loop icon:

Then position the loop where you want the selection cut:
Then pop it over to iTunes: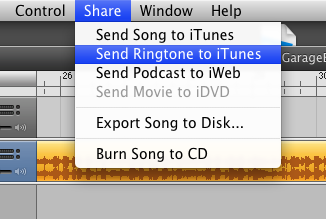 You probably will want to rename it in iTunes, then just sync your iPhone.
More info on this from Apple is here.
Leave a Reply