I'm not sure how Postini works from the algorithm level, but it doesn't seem to do anything about two sets of emails, and I must be on the top of the least for each of them.
The first are emails with titles like "85% discount. Coupon #PqG1." After I get a few thousand of these, won't Postini figure this out? By the way, the body of these emails is usually something like "Dear michael, be intelligent, buy your meds from the best shop since 2000. " So there isn't even a hyperlink in there. I wonder how low of a response they're looking for. Since they also spoofed the return address, I'd have to work really, really hard to patronize these guys.
Next, my next job as a Rebate Processor seems assured. I've got hundreds of offers here: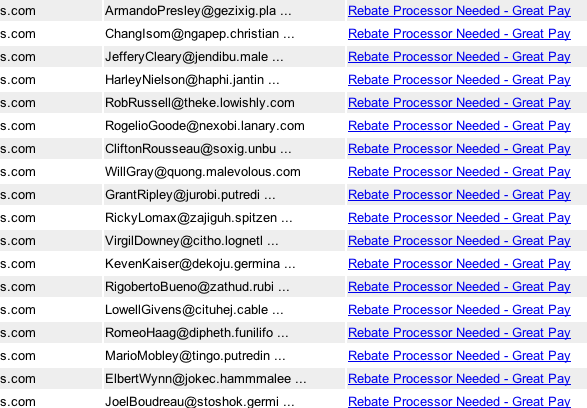 These all came in a row, but I've got many more. Will Postini catch on here?
Now, granted, I'm very happy with Postini. I came from SpamAssassin, and I really, really prefer Postini. But they must have tens or hundreds of thousands of these identical emails – I have over a thousand. So why am I seeing them? They weed out plenty of other garbage from my bulk mail – please get rid of these too!