We spent the first week of our summer vacation in Sitges, a beach town just south of Barcelona. We rented a large condo with our friends, the Koetters. 
The condo (Residencia La Granja) was on Vilanova about four blocks north of the beach, an easy an pretty walk. The condo had a central pool, and, after a start, WiFi, which meant we could use Skype and Truphone to call home and research trips.
Sitges is a fairly large town with an old neighborhood with an old church at one end, and a newer town stretching west from there. For the first several days we were in town, we didn't realize just how much there was in town – it wasn't until our last day that we found the doner kabob shop.
After a few meals at local places that we happened upon (including two pizza places on the street at the beach that were fine, but nothing special) we decided to try to do some research and eat at less touristy and more compelling restaurants. Our Cadogan guide led us to La Masia, which was a complete mistake (and the guide was therefore left at the condo, and was pretty much never re-opened). To compound the problems with the restaurant, we used our Garmin, that we loaded with maps of Europe, to find the place. It led us in exactly the wrong direction, right to downtown Sitges, instead of the relatively easy walk the other way down Vilanova to the restaurant. In any event, the sausage tree was pretty unusual and did have some good meats hanging from it, but from there, everything was mediocre, or even bad. The place was only populated with English-speaking tourists, and it was only about 10% full at that. We agreed that it may be a tour bus stop. So, clearly, don't waste your time here. Avoid La Masia!
More research on Sitges led us this website of restaurants in Sitges, with a little commentary.
That helped a bit, and it did lead us to Izarra, near the top of Carrer del Taco on Carrer Major. This is a fairly typical tapas bar with a pretty large selection for such a small place. The specials were 3.50€ which made those items a steal. We ordered all four (only got three) and the pimientos de padron and the patatas con cabrales were great. The other memorable items were, especially, the rice dish (sort of like paella, but with mushrooms and meats) and a great lentil and potato stew with sausage. That one was my favorite. The Mediterranean salad was also very good – I think it had the local Cabra cheese on it, which is a bit like Boucheron to me, with a chalky part and a creamy edge before the rind.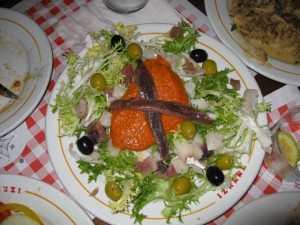 The other good restaurant we ate at was El Rato de Carreta around the corner from Izarra on Carreta. This was more or a typical restaurant and they had a speciality of 'cocos' which seem to basically be take-offs on the idea of the Pan Amb Tomaquet that you can get everywhere in Catalunya (and that's usually a really solid way to start a meal). The cocos here had other toppings – mine had eggplant, onion confit, and roasted tomatoes, in three sections, divided by anchovies. This restaurant also had good salads – mine had Cabra, again. Leo had a rich, meaty lasagna, and Christina had an eggplant dish with cheese that was just too much food, but also good. I will say that, as is often the case here, the service was pretty slow, but nice and accurate. The one guy who likely owns the place is the waiter for the whole restaurant, and once it gets full, that's the end. When we left, at about 10:30, there was a line out the door. Of course, we could have left 45 minutes earlier and made space for these people (and money for the guy) with a little more attentiveness, but that's just not the way it works in Europe, so it seems. It almost makes me like the way we have tips in America – at least there's some reward for efficiency, and it aligns the interests of the waitstaff with that of the owners and customers.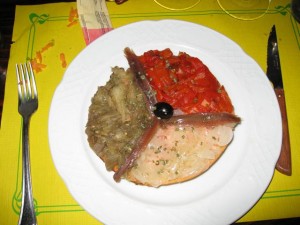 The other restaurant where we ate once, and the Koetters, twice, is Bar Panchito. It's a Mexican place, just south of the traffic circle in the middle of town. It's fairly quick, actually pretty tasty, and not at all accurate in its descriptions. If you have any knowledge of Mexican or CalMex food names, just ignore them for purposes of ordering here.
Trips outside Sitges
Twice, we went into Barcelona. Once was by slow train, and once by car, which, having given the Garmin GPS another shot, was really pretty easy. Even parking wasn't too bad, and I'd do it again by car considering the experience.
We ate lunch at Cacao Sampaka, the chocolate store and cafe that we went to last trip and found stunning. This time, it was less so, maybe due to the sour attitude of our server. That really put a damper on things. But the chocolate was good – both what we ate there, and what we brought with us for later snacks. The chocolate covered orange rinds are really the best.
From there we walked around to see some Gaudi houses include Casa Battlo and Casa Mila (La Perdera) and some other notable architectural buildings, then to the church.
The first time we went to the Sagrada Familia which is just amazing. I hope I'm alive to see it when it's finished. We saw it a few years ago, and I can't really tell at all what's different, but it's really just stunning. This trip, I was especially taken with the angular art on the front of the church, outside, but a local, living artist, whose name I forget.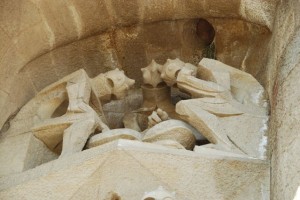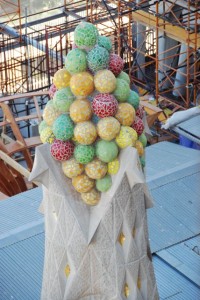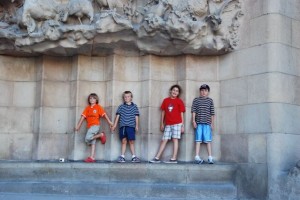 Next trip into Barcelona we planned out a bit more and Klara found us a great tapas restaurant on Chowhound. We had all wanted to go to Cal Pep, but they're closed for the month, so we went to Paco Meralgo. This is in a totally different part of town, but with the metro and the easy parking, we all met up there easily and got to our reserved table. Quick note: if you've got nine people, or even fewer, make reservations at these places when you can. They seem happy to help, and I think that without this reservation, we wouldn't have had a chance at a table for all of us. 
It was hard to order the wrong thing here, but top picks included the steak tartare, the padron peppers, the razor clams, and, maybe the raw sea snails. I didn't expect those to be raw, so that was a new one for me, but they were really tasty, and had that great chewy texture, and they were a little chilled. As Joe noted, dipping almost anything in drawn butter with garlic helps, and it didn't hurt these one bit. The tuna carpaccio that was so highlighted on Chowhound was nothing special (but then, coming from LA, it's hard to get raw fish that impresses) and even the desserts were great – I liked the french toast the most, and thought the Catalan cream (basically, creme brulee, but a bit more rustic) and homemade cheese were great also. Others like the cork in mocha sauce that didn't really do it for me.
That day we also went to Parc Guell (incredible – hallucinatory) and the Miro museum (which I like, but I found better the first time). We hit the Boqueria for a bit, then ate back in Sitges.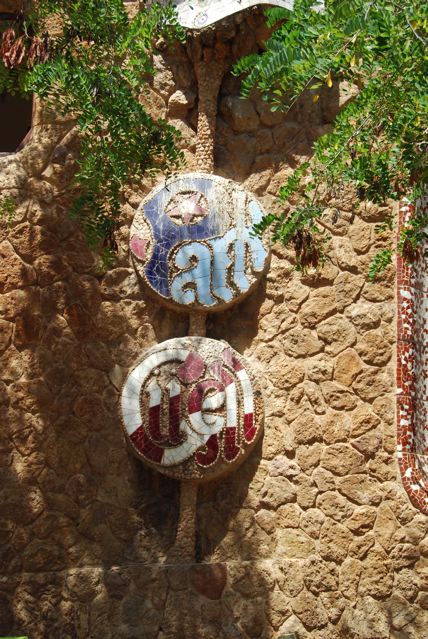 We also went on a trip to Montserrat. This is on a crazy geological formation that you see rising up from miles and miles away. Eventually, after what seems like lots of back and forth driving, you wind up to the site of the monastery and town, high up in the jagged peaks. Most of the church is relatively new, having been destroyed by Napoleon's troops in the early 1800s. But the sculpture of the virgin from the 9th century is still there, healing people. We took a hike up to the highest peak. The place reminds me of Ayers Rock since it's just totally alone out in the countryside, with nothing even remotely similar around.
Leave a Reply