There are lots of restaurants in lots of cities that I love going to, but there are only a few restaurants that I think of going to in the future, for years. One is Chez L'ami Louis in Paris. I've been to Paris twice, and even tried to go once, but I haven't crossed the threshold.
Another is the French Laundry in Yountville. And I finally went, for my birthday.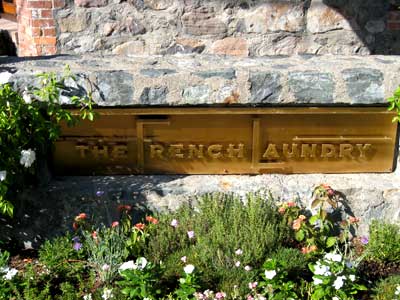 So here I am on the other side, and it's a curious thing. Were the years of anticipation more enjoyable than the event itself? Maybe, but probably not. But it is a bit strange to not have this dinner to look forward to anymore. I can yearn for another, but that can't have the same place in my imagination, since so much of it is now concrete. And I'm confronted with the big question: would I go back? Hard to say. It certainly was excellent, but it was not cheap, or even just expensive, and it's also a trip.
As far as the evening itself, more than anything, I was amazed and put at ease by the service. To me, service can't make or break a restaurant. If the food's good, I'll put up with a lot. But if the food isn't, even great service can't rescue a meal. So take great food and pair that with excellent service, and you get the French Laundry.
I had always assumed that the menu was set, no questions asked. But there were a limited list of choices to make, and for my wife, who eats fish but not meat, the waiter nicely interspersed vegetarian items and extra seafood items in for meats on the regular menu. This isn't a "no substitutions" type of place. This place is built for extreme enjoyment and comfort and ease.
I think the aspect of the service that most confronted and dissolved my anxiety was the wine question. We brought two bottles of wine – a cabernet from a friend's winery, and a dessert wine. I wanted to bring some wine so that I wouldn't end up paying $1000 just for three bottles from the list. But it wasn't that simple. I learned a lot in planning the wines to bring – among other things that you can't bring a wine that is on the wine list, and that you should order a bottle off the list for each bottle you bring. Thought through, these niceties make good sense. But they were a little fresh to me. Thus began probably too much thought devoted to this issue. While I assumed the menu was set, I assumed the wine list was a minefield I'd have to expertly navigate.
So the host relieved me of my two carry-ins immediately, and at our table, I was presented with the wine list – or wine book. And here's where the suavity began. The waiter sized me up quickly and accurately, and gently took over. When I say he sized me up, this included both the extent of my ability to relinquish control, and my price range. When I spoke about starting with champagne, and vaguely gestured toward the recommended bottle, he nicely guided me to one for half the price, promising we would enjoy it as much. When we discussed what we'd like in a white for a bit, he recommended two half bottles as a way to progress and match the courses where he would serve them.
Then, he made two more moves that really sealed the deal. One was that he asked if we'd like some of the sauternes we'd brought for dessert to be served earlier, with our pate. He suggested that just a sip would pair nicely. More work for him, and on a bottle we brought in, but he suggested it, and he was right on.
Next, I mentioned to my friend that Brooklyn Brewery makes a special ale just for the Thomas Keller restaurants. My friend and I both revere good beer, so I said this in a bittersweet way, figuring it just didn't fit into this meal. The waiter overheard and suggested that we share a bottle during the cheese course. Perfect!
So at this point, service-wise, we were completely set. I'm pretty sure he could have scalded me with hot coffee and I would have smiled. And this was all in addition to the casual food banter about the origins of ingredients and the methods of preparations that came and went, never lasting too long to become tiresome.
On to the food. With a restaurant this perfect, for some reason, what sticks in my mind was the one dish I had that had no flavor: the eel. The freshwater eel was tempura battered and fried and while it had a great texture, it had no flavor. But that was one of maybe 12 courses (they claim to serve nine) and so I need to let it go, especially because at least two other dishes were basically perfect, and two more were outright amazing.
The cornet (not sure if that's the word they used – it sounded like that, but with food nouns these days, you can never tell a neige from an emulsion) of salmon with creme fraiche was pretty transcendent. At Spago in LA, they serve something along these lines with tuna in a miso cone, but I'm thinking that the French Laundry interpretation is maybe the original, and done perfectly. I can still taste it.
Another item that sounds like it never leaves the French Laundry repertoire is the 'oysters and pearls.' I'd heard plenty about this from friends who'd had it. It's pretty hard to oversell. Somehow, you're eating warm, raw oysters, in a smooth, silky sauce, with a mound of caviar (from Sacramento, no less). It looks gorgeous, and it's luxuriant to eat, but not over the top.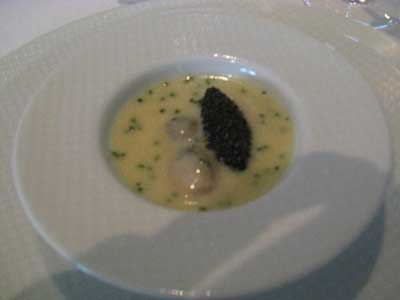 So one small level down from there I'd put the pate and the lobster. The pate was of foie gras, served with salts (yes! plural!) and brioche. Except, by the time we dug in, someone decided that our brioche was probably cool, so as we reached for it, they asked us to wait, and in seconds replaced it with just-toasted pieces. OK – maybe a little over the top.
The lobster was poached perfectly in two butters (yup – plural again). As great as that was, it came with fried potato disc, and some kind of otherworldly leek compote. I wouldn't even try to recreate this because I'm sure I can't, but if I did, I'd have to figure out how to cram a cup of cream into two tablespoons of leek compote. Is it even possible? And without the heavy feeling of just eating pure fat? I've got no clue, but someone there is really doing many things right.
This was definitely a meal I'll never forget. But this was in the wine country – home of lots of good restaurants. We ate in two other restaurants while we were there, both great. One was Ubuntu, a vegetarian restaurant in Napa. Unfortunately, I had just downed a hamburger and onion rings at Taylor's Automatic Refresher about two hours before our reservation, so I was a little full for this meal, but it was great. I'd go again in a heartbeat.
The other was one that I'll seek out again: Ad Hoc, another Thomas Keller restaurant in Yountville with a very different aesthetic. Here, the restaurant is casual and busy and loud, and there is no choice on the menu at all. It's family style, you get what you get. We were lucky enough to have a reservation on fried chicken night, which we'd heard was very popular. In fact, the hosts were turning away people in droves as we waited for our reserved table.
The chicken in question is battered in an herb-buttermilk paste and fried. It must be brined ahead of time to be so juicy. and the herbs (rosemary, clearly, and maybe sage) really shine with the frying. They started us with a three bean salad, and served the chicken with a corn and tomato salad, and some mac and cheese that has its own reputation, which it deserves. Fresh, local, in-season ingredients, presented simply. This how I strive to cook, and what I love.
OK – here comes the comparison between the French Laundry, and Ad Hoc,. Does it say anything that in the four days we spent in Keller-ville, the only time we saw him was at Ad Hoc, eating dinner with his friends? Maybe he can't afford Bouchon or get a reservation at the French Laundry, but Ad Hoc was turning away walk-ins without reservations in droves, the night we were there, yet he kept a table for his group.
Maybe he's had enough of the formality of the French Laundry (coat required) and he likes the simplicity of Ad Hoc – but, in any event, I do.
The menu was as varied, we only drank one bottle of wine, and restaurant wasn't as luxurious, and we weren't with friends, but in many ways, that's the meal I'd recreate, at home or at a restaurant. And Ad Hoc is, most likely, the restaurant I'll be back to first.