I can't figure out where to review food trucks (Yelp?, FourSquare?) and so I'm posting a quick review here.
Reading Dumpling Station's Twitter feed, I saw that they were finally making the trek back west from their typical haunts in the Pasadena area. My kids and I have been wanting to try these out, and the time and place worked, so we tooled over to Melrose.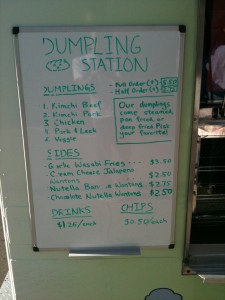 The menu is pretty spare – it's basically all online. We ordered the chicken, the pork with kimchi, and the veggie.
All three came with the same two sauces: a dipping sauce largely made of soy sauce and probably peanut oil, and a hot sauce that I think was sriracha.
And the verdict it: wouldn't bother going back, sorry to say.
The veggie was just a mess. I've really only had great veggie dumplings a few times (best were in New York at Excellent Dumpling). These were just kind of a mush, with no real character, and way, WAY too much garlic. Not just garlic, but jarred garlic – the kind that has that funky taste from whatever they do to it that robs it of its delicious fresh flavor. Why bother? Fresh garlic is great! Jarred, chopped garlic is just a totally different animal.
Chicken: fine. Nothing special. Not great, not awful. That's kind of how chicken is, I guess.
Pork and kimchi: Not too bad, but just too ground up; too mealy. I thought I'd get recognizable pork with chunks of cabbage. But this was a homogenous goo inside. No great pork flavor. And no great kimchi flavor either. This was just not like Mandu. Maybe I should have tried the beef and kimchi?
And we also got an order of the garlic wasabi fries. The fries weren't bad – and fries are easy to mess up. And the wasabi mayo was actually pretty good. But the garlic was the above-mentioned *jarred* garlic, so that was almost all I tasted. Next time, if there is one, I'd get wasabi fries please, hold the garlic.
Granted, I've had a lot of dumplings, and my family is particularly enamored of Din Tai Fung, which is a pretty different genre certainly. But we had been looking forward to the Dumpling Station – maybe some good dumplings on the Westside for a change (beyond Mandarette) but it was not to be, I'm afraid. So many food trucks have been simply great (Kogi and EatPhamish being two favorites so far) that I was expecting a little more here.
Leave a Reply