I ran the Long Beach half marathon on Sunday, and, while I did much better than my time last year, I didn't quite get under the two hour mark. Of course, had I known I'd miss it by two seconds, I'm guessing I could have powered out a few steps to pull it off.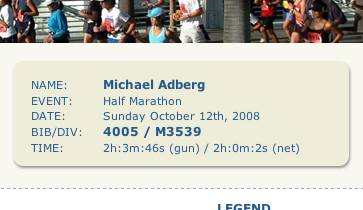 I always say that next time I'll train better, or carbo load better, or get more sleep, or something. In the end, I felt like I phoned in the prep work, but I really did fine. So maybe that's the way to go: don't prepare at all, and just go out and run.
I also claimed this would be my last run for a while, but I had a great time running with friends, and I wasn't totally wiped afterward, so I think I'll go again, when the time comes. I keep dreaming of getting under 1:50, but once I calculate it out, that seems wildly impossible. So I'm content, and next time I'll shave 10 seconds off this.
Leave a Reply