We just got a letter from Freedom Financial Partners. I thought it was a routine "Do we have a new loan for you!" letter, and I tossed it. But my wife had seen it first and was worried that it said our house was in jeopardy due to a loan default.
So I fished it out of the recycling, and sure enough, she was right – the letter did say that.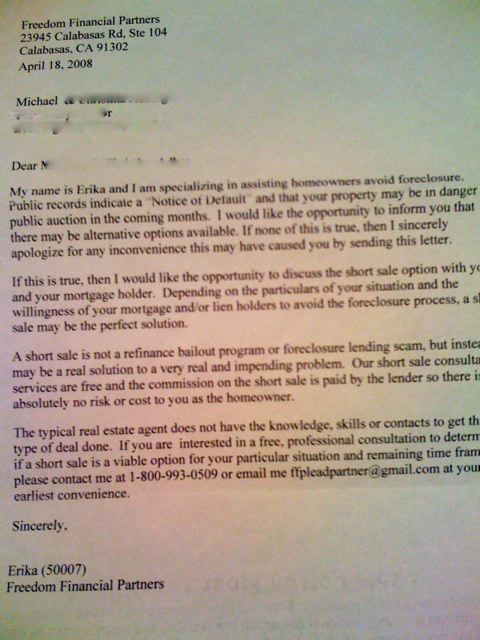 OK – first, some background info on the wonderful Freedom Financial. Their website seems to be here. Note the link to the BBB. I'm really not a big fan of the BBB. As a business owner myself, I feel like they extort a yearly fee in exchange for a good review of your business. But click the Freedom Financial BBB link. Nada. No reviews. But they link there. Pathetic.
Next, the ways to contact them. On their website, they have a comcast.net email address. On the letter, it's a gmail address. For a company with a domain name and a website, this seems a bit strange. Is it operated on public computers where they need webmail?
As for physical location, their area code (724) puts them in Pennsylvania. But their BBB info puts them in Utah. Their whois info is hidden. You guys really know how to gain the trust of your customers.
Here's the key line from the letter: If none of this is true, I sincerely apologize for any inconvenience this may have caused you by sending this letter. Wow. So if you've scared perfectly mortgage-paying homeowners into wasting their time, and possibly calling you, you're sorry. Even in Stockton, California (with its 10% foreclosure rate – reportedly the highest in the country) you'd only be right up to 10% of the time, so you'd be wrong 90% of the time. In the rest of the country, you'd be wrong 90%+ of the time. Truly pathetic.
Freedom Financial Partners: Please! Have some personal integrity! Do the right thing here! Does scaring people into contacting you ever work?
Leave a Reply