Maybe it's because I was once a vegetarian (can't even imagine that now) or maybe that I just want to get the economy moving again, but I've taken to ordering pork products online.
I first ordered from a place in Berkeley called Framani. They sell a line of sausages and salamis and related products. I ordered three packages of various sausages, which I haven't tried yet. But I also got the dry salami and the chorizo.
The dry salami is pretty standard hard salami. It's got a firm texture and a nice garlicky flavor. It's good, but given the costs of ordering online with shipping, I'm not sure I'd run to get it again.
The chorizo, though, is really good. Firmer, still, than the salami, and with a lot more flavor of paprika and other spices. This is something I actually think about during the day, wanting to get home and have a slice. I'll likely reorder or see if I can find it locally.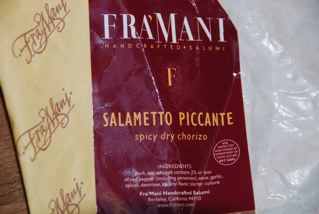 Next, I ordered from Niman Ranch. I'm more familiar with their meats since they often carry them at Trader Joe's, and many local restaurants also feature them by name. I like that most of their beef seems to be grass-fed (although it's hard to figure that out on the website). I also like that they at least claim their pork is "natural" although I'm not too sure that that means much, frankly.
I ordered some sausages (in the freezer for later) and a pork belly. This thing is a little scary. I knew what I was getting into, but it's still going to take some work. I keep having it at restaurants, and it's so delicious (with all of that fat, how could it not be?) that I've just wanted to try it myself. But I can't find it locally, so I ordered.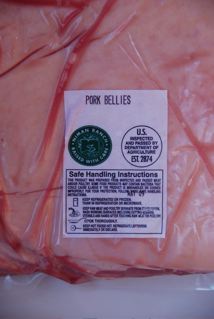 As you can see from the cross section, it's the same meat that would become bacon. This is just the raw version, skin on.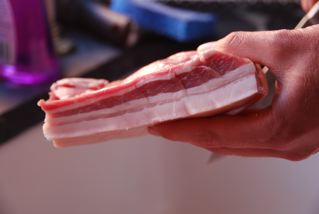 I bought about an eight pound piece, so I cut it up into eight individual pieces and froze seven. I'll try to cook the first one this week and report back. I'm thinking of roasting it with dried cherries.
Finally, I have an order coming soon from Salumi Cured Meats. You might have heard of this place since it's owned by Mario Batali's father. Turns out, lots of people have heard of it. The waiting list is nuts. I ordered a guanciale and two salumi in January, and they're just getting shipped tomorrow. I'll report back on this – and then if it's good, you've got to get your place in line, fast!
Leave a Reply