I mentioned last week that I was awaiting a shipment from Salumi Cured Meats – Mario Batali's father's salumeria in Seattle. I was on the waiting list for four months (that's right) and it finally arrived. I'm not sure which item held it up, but I think it was the guanciale.

I was a little surprised about how the shipment was packed. In my previous pork orders, the meat arrived in styrofoam boxes full of ice packs. The meat was cold each time. In this box, the meat was just wrapped in butcher paper, and stuck in the box, and shipped two-day. And mine arrived on a very hot day – I could smell the meat before I opened the box.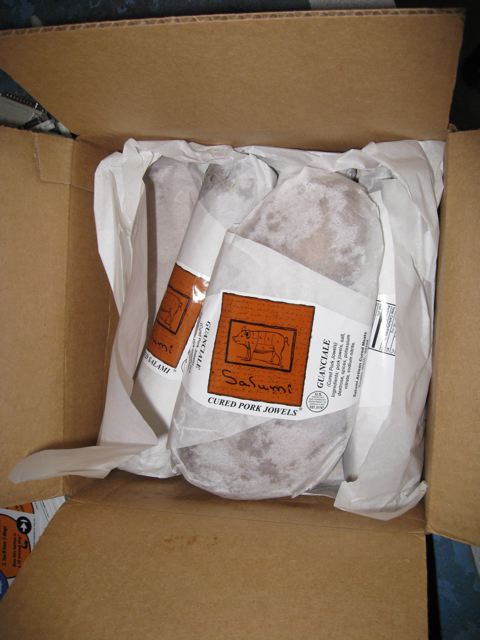 So I broke it open at work, and basically the meat was glistening from the melting fat. I ordered three products: the salumi salami, the finocchiona salami, and the guanciale. I haven't used the guanciale yet.
We all gathered round and sliced into the salamis. First, we hit the salumi, and that remains my favorite. There is a big flavor of mellow garlic, and then a host of other spices that add a wonderful depth. On the website, they list ginger as one of these – that makes sense given the flavor. It's hard to place overall, but it's rich and delicious.
The finocchiona is also a great salami, but very different. This is a spicy log full of black pepper (cracked, but hardly) and fennel flavor – probably both pollen and seeds. It's a very, very full flavor, and spicy enough that you can't really taste whatever you eat next unless you give it a while.
So I'll probably get on the list again for more salumi, and I'll try some other logs next time. I'll be back in four months with more – and I can't wait to make a carbonara with the guanciale.
Leave a Reply