I'm onboard now, in my "suite," and it's definitely over the top. Before takeoff, I had a glass of Krug Champagne. Eric and I sat and talked, both in his suite and in mine (since each has two seats, naturally).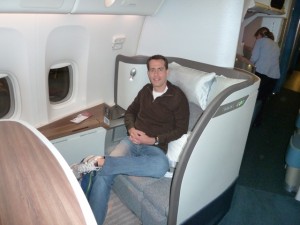 The captain, Dave, came back to say hi, and spoke about the flight. I talked to him about the flight to Hong Kong from New York that goes over the North Pole, and he had flown that once a month for a while. He said on that flight, the winds can get up to 250 miles per hour, so the plane can hit 700 miles per hour ground speed. Amazing. Also amazing that I had a five minute conversation with the pilot before takeoff.
So takeoff is also an interesting situation. Bottom line is that I've never been this far up in a plane before, so taxiing around on the tarmac, and then taking off – the motion is noticeably different. And the noise is another story. So far in front of the engines! OK, it's not silent, but any means. But slip on the noise-canceling headphones, turn on your entertainment center, put your feet up on the ottoman, and you could really be in your den at home.
Overwhelming feeling: I can't believe I'm on a plane. I'm watching a movie on my huge personal TV, drinking a Merseult that was opened just for me, eating warm cashews, and awaiting caviar. On a plane. Some comedian (Louis CK maybe?) talks about how incensed he is when people complain about air travel, yet they're sitting on a seat, 36,000 feet in the air, watching a movie! How about doing that in bed, in pajamas?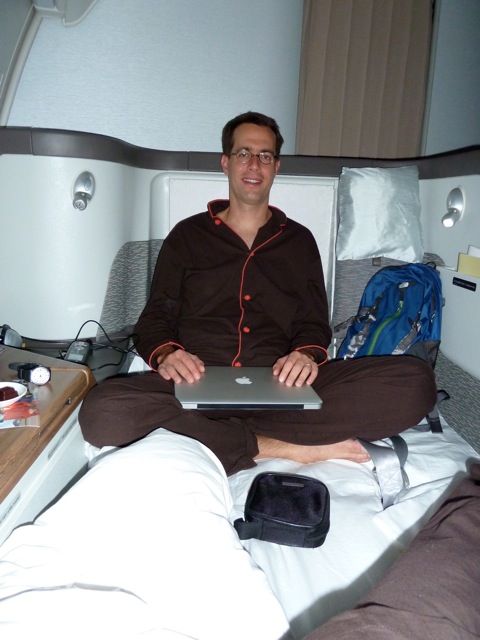 Just got out of bed to go to the bathroom. Problem. I was buckled in. Still have to wear a seatbelt.
So I'm two movies and almost nine hours into my flight. I hope that means I slept for five hours, but sadly, I don't think so. On the flip side, if I can't sleep in this bed on a plane, maybe I should fly coach from now on, right?
We've been flying hard all night, but I know the sun will still beat us there.
Leave a Reply