Archive for the HK2010 Category
Well, after years of drinking tea with boba, I've come to learn that Hong Kong claims to be the birthplace of milk tea, which is basically the tea you drink with boba. Now, I'm not really sure how milk tea differs from the old English tea with cream and sugar, but there's some whole story about straining it through pantyhose for some reason – anyway, they claim it.
And there are quite a few shops around town that serve it. We tried one in Mong Kok in Kowloon called Gong Cha where I got a crazy version with this strange thick frothy sweet milk on top that you sample first, then mix in to the rest of the drink.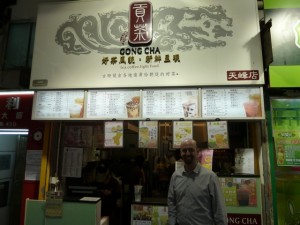 It was definitely unusual, so it was interesting, but I'm not sure it was my cup of tea.
Next we got into the witty-names place. We went to Easy Drink, Easy Go.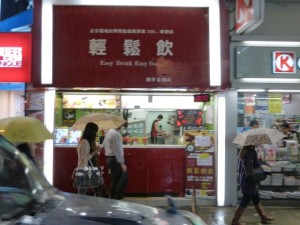 Yes, that's Eric there behind the umbrella. Sometimes I really have a way with the camera.
This did go easy – into the trash. We both got citron (or citon) and it was pretty nasty – sweet rind bits amid the boba. Essentially, undrinkable.
Finally, we got to ComeBuy. Blatant.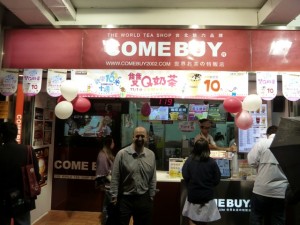 And that was the best one – straight up sweet milky tea, with boba.
For lunch, we went to an old dim sum house, in place since 1926. This was a bit of a challenge, and would have been even harder for a group larger than two. You basically have to jostle to find your own place at a communal table of 8 to 10 people, and the hustle to get food. But it's worth it.
The restaurant was Lin Heung Tea House. You actually enter through the bakery and roast meats area (they smell so good! more on that later) and go up a flight of stairs into a madhouse. A man who presumably worked there was nice enough to roughly guide us to some places opening up after we milled about with the others looking for tables for about 10 minutes.
We were in a location that was a bit out of the way of the main cart route (which is probably why we got seats at all) so a woman with a cart took a little pity on us and brought us over some char siu bao and other goodies to get started. One was an egg dumpling, basically a boiled egg yolk on top of a mound of ground pork and shrimp, in a casing like a har gow skin. Really good. After not making much more headway, I took the charge sheet and went in search of more items. Here's a picture of one woman about to hand me some plates from her cart – she was a little surprised when I snapped it: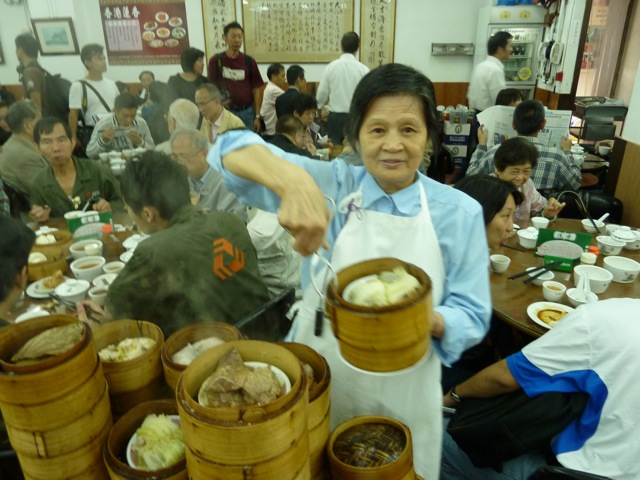 I can't remember exactly what it was, but something wrapped in a big goopy cabbage leaf was probably my favorite. I also liked the veggies and pork wrapped in bean curd skin. Really, it was all good. And we were out of there, full and greasy (no napkins!) in probably half an hour. Total cost, $120HK, or about $15US.
There was clearly a whole culture going on in this place that we didn't understand. To start, the woman who brought us plates brought us a little serving bowl of hot water, and put a tea cup in it. I can only guess that she meant to warm the tea cup before pouring tea in it. Then she put a spoon in there – we tried to play along, but we didn't really get it. I kept meaning to watch someone else go through the ritual when they first sat down, but I never caught it.
Then there was the tea. These places are called, after all, tea houses, so the tea is central. We just got a standard pot of Chinese green tea, but many others had a bowl of leaves, with a plate on top, that kept getting refilled with hot water. I'm not sure if, again, we were doing something wrong, or if these were just one-person versions of our pot, that had been rehydrated so many times that the leaves grew huge. Anyway, clearly a lot was going on here that was over our heads.
Dinner at Yellow Door Kitchen
Friends had mentioned this place before I left, and then I also saw it online in a few places, so I figured it was either a tourist trap, or pretty good. And the concept sounded intriguing. Bottom line – VERY good. And while there were definitely out-of-towners in there, that's no reason at all to stay away.
The place is on the sixth floor of a nondescript building at the beginning of a market street near Central. This is the way of many restaurants. They aren't on the ground floor since that real estate is so expensive. What amazes is me is how anyone finds them, and, further, the lack of decoration for the "lobby" in these buildings. Essentially, you go in a narrow hallway, past mailboxes recessed into the wall, to a tiny elevator – all pretty rundown, like an apartment building in Queens. And nothing seems commercial about it. But once you're in the restaurant, it's all very business-like again. Anyway, then concept makes sense – avoid the expensive ground level space. But I feel like I'm missing (again) a lot of what's really going on, since it's in these anonymous buildings, and not at ground level where I'm walking.
The restaurant has a set menu – just one. Here's a picture: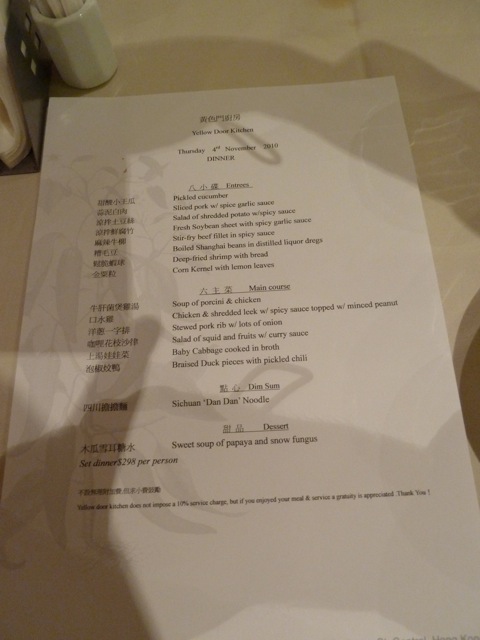 The descriptions are really pretty simple and, in most cases, each dish was also, in a way that the right flavor really shone through.
First you get all of the entrees at once. Each portion is pretty small, but each one is rich: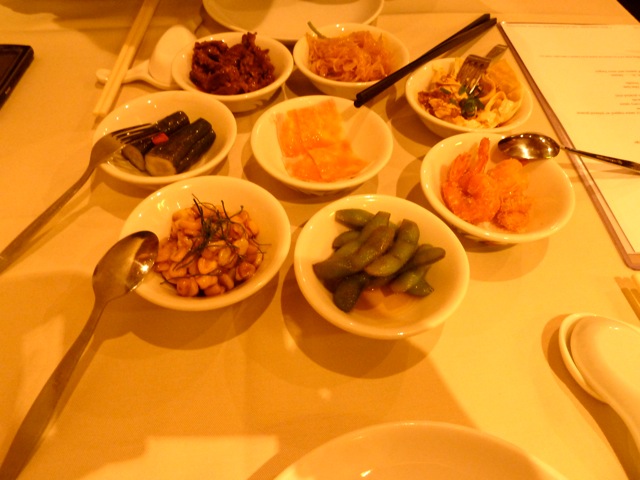 Sorry for the bad lighting on that one.
Several of these dishes were notable. The spicy beef (back left) was definitely spicy (perfect with TsingTao) and oily and rich. The pickled cucumbers contrasted nicely with that. The bean curd skin was in a garlic chili oil that had some amazing flavor that I can't quite put my finger on. That was probably my favorite. The edamame in "liquor dregs" was pretty good, if simple. I was remarking to Eric that if we didn't have edamame at home, we'd likely try to eat the whole thing here.
The one really unusual item was the roast pork. It was almost like a molecular gastronomy item from a different style of restaurant – diaphanous sheets of pork, but ones that held together, with a sauce that evoked what Eric coined "the smell of Hong Kong." It was like that smell, the smell of roasted meats, was reduced down to this little bit of sauce on the pork. This is the middle item in the picture – not sure if it was served in that position on purpose.
Eric and I are now craving the Hong Kong smell, and even now at 5 AM, kinda tired and definitely jet lagged, I'd like to get my hands on some roast goose or duck or pork – or all three. Walking the streets, the smell just pops out for a moment here and there. You look around, looking for what my brother-in-law calls "duck in window," but it's never there. I guess it's at that eighth floor restaurant that I'll never see.
OK – back to Yellow Door Kitchen. I was a little worried that the mains would come out all at once also, and we'd be overwhelmed, then done, but they came out one at a time, and each was a bit larger.
Next came a soup which was just a broth with a mushroom. Not bad, but nothing special. Maybe it was a sort of palate cleanser?
Then came my favorite dish of the night: the chicken. And I'm not really a chicken lover. But this was pretty perfect. The chicken must have been roasted, then it sat on a bed of shredded leeks, with roasted garlic and spicy oil all over it. Man, that was good. Spicy and oily and salty and even sweet from the garlic. Really good.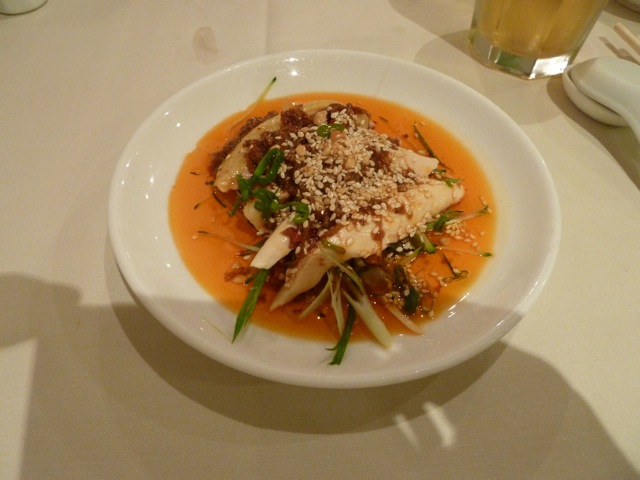 The pork rib tasted like a western-style dish to me – almost short rib, with the onions.
The squid was pretty good with the potential to be a belly bomb – deep fried, with a little mayo or something, and some grapes and other fruit. Different and not bad. The cabbage was great because of the broth, and it made a nice break after the heaviness of the preceding dishes. The the duck was also very good, but I was getting very, very stuffed.
Then came the dan dan noodles. I had always assumed this was some Americanized dish for kids – noodles in a thin peanut butter sauce. But I guess that's just the American version – this sauce was MUCH better – richer with sesame and no peanut. I can't say the noodles themselves were extraordinary, but I did eat them all.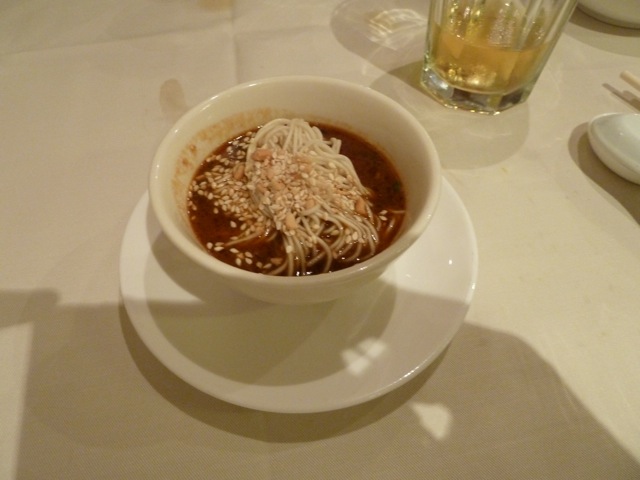 I wasn't a big fan of the soup for dessert. The snow fungus had a nice crunch, but the warm papaya didn't really do it for me.
Anyway, I hope I have another meal like this one, but I can't imagine I will. This place was great!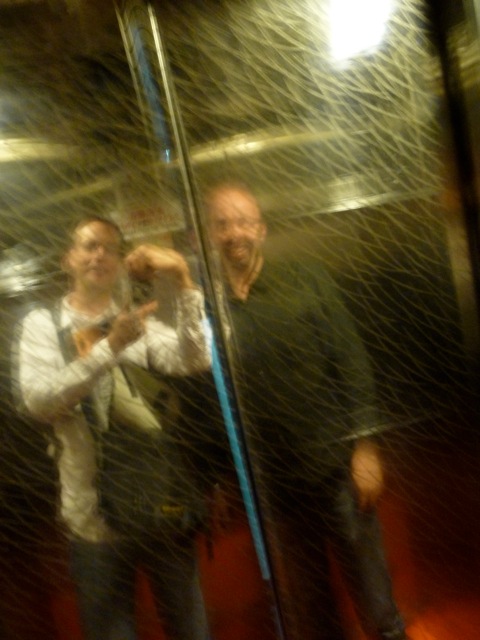 I'm onboard now, in my "suite," and it's definitely over the top. Before takeoff, I had a glass of Krug Champagne. Eric and I sat and talked, both in his suite and in mine (since each has two seats, naturally).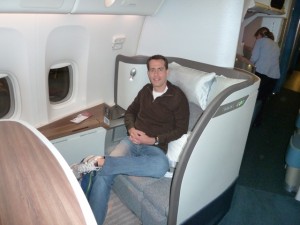 The captain, Dave, came back to say hi, and spoke about the flight. I talked to him about the flight to Hong Kong from New York that goes over the North Pole, and he had flown that once a month for a while. He said on that flight, the winds can get up to 250 miles per hour, so the plane can hit 700 miles per hour ground speed. Amazing. Also amazing that I had a five minute conversation with the pilot before takeoff.
So takeoff is also an interesting situation. Bottom line is that I've never been this far up in a plane before, so taxiing around on the tarmac, and then taking off – the motion is noticeably different. And the noise is another story. So far in front of the engines! OK, it's not silent, but any means. But slip on the noise-canceling headphones, turn on your entertainment center, put your feet up on the ottoman, and you could really be in your den at home.
Overwhelming feeling: I can't believe I'm on a plane. I'm watching a movie on my huge personal TV, drinking a Merseult that was opened just for me, eating warm cashews, and awaiting caviar. On a plane. Some comedian (Louis CK maybe?) talks about how incensed he is when people complain about air travel, yet they're sitting on a seat, 36,000 feet in the air, watching a movie! How about doing that in bed, in pajamas?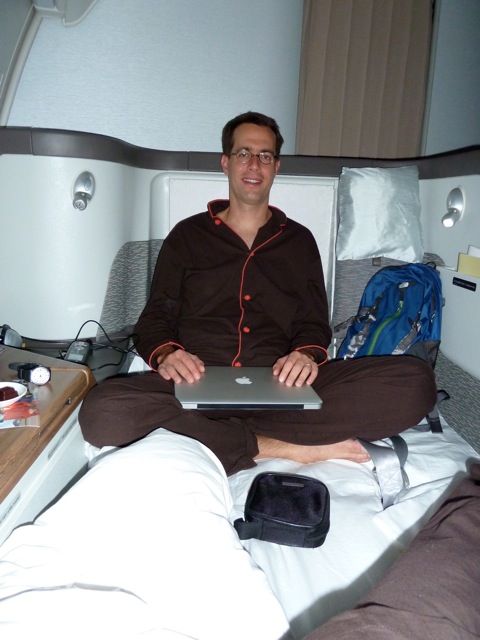 Just got out of bed to go to the bathroom. Problem. I was buckled in. Still have to wear a seatbelt.
So I'm two movies and almost nine hours into my flight. I hope that means I slept for five hours, but sadly, I don't think so. On the flip side, if I can't sleep in this bed on a plane, maybe I should fly coach from now on, right?
We've been flying hard all night, but I know the sun will still beat us there.